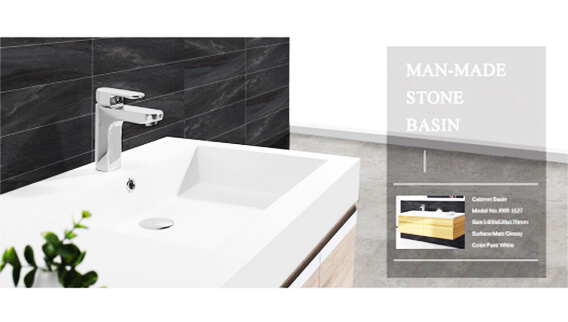 With our own brand kkr, we have created a new generation of sinks, basins, bathtubs and showers. The materials and designs are perfectly suited for the most diverse functional areas for commercial and residential architecture.
Our kkr products are preferred accessories for architects and builders, and the professional quality is integrated in kitchens, bathrooms, culinary establishments, doctors' offices, hospitals and many other public spaces. Kingkonree represents a contemporary symbiosis of design and quality.
Our assortment of kingkonree wash basins and sinks offers many technical advantages – such as particularly high dimensional stability and prefabricated deliveries without costly post-processing– also the possibility of extensive integration with other materials in addition to solid surface materials.
Thus, the high requirements of architects, craftsmen and consumers can always be fully satisfied by the quality. The look, the feel to the touch, the durability and the selection of shapes allow us to transform nearly every idea and any application into reality.
Our kingkonree products consist of an extensive standard program in distinctive shapes and sizes. The delivery of high volume quantities or the provision of singleordersand project-related sinks, basins, bathtubs and showers presents no problem for us.
With kingkonree you are purchasing a low-maintenance, high-quality product made of the most advanced materials with the best conditions for long-lasting performance in daily use.